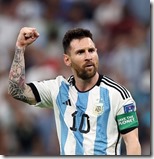 Lionel Messi, one of the greatest soccer players of all time, has signed with Inter Miami CF of Major League Soccer (MLS). The deal is reportedly worth $30 million per year, making Messi the highest-paid player in MLS history.The team and Messi's representatives made the announcement on Wednesday. Messi agree to a three-year deal with the team that includes a fourth-year option.
What does it means to the Messi and MLS?
This is a significant win for MLS. One of the most well-liked and accomplished soccer players in the world is Messi. He holds the record for most Ballon d'Or victories with seven. Additionally, he has won the Copa América with Argentina and the Champions League four times each.
Messi's entry into the MLS is evidence of the league's rising popularity. Both attendance and television viewership for the league have significantly increased in recent years. It is anticipated that Messi's arrival will assist to increase interest in the league even further.
Messi, 34, joins Inter Miami after spending the past 17 years with FC Barcelona. He is a six-time Ballon d'Or winner and has won 35 trophies with Barcelona, including 10 La Liga titles and four Champions League titles.
Messi's arrival in MLS is a major coup for the league. He is expected to help raise the profile of MLS and attract new fans to the league.
MLS 2023 Campaign
Messi is anticipated to make his Miami debut in the 2023 campaign. Messi won't be able to participate until the summer transfer window, by which time the team will already be in the middle of its season.